We assume escort rates are for time only
CURT - SANTA CRUZ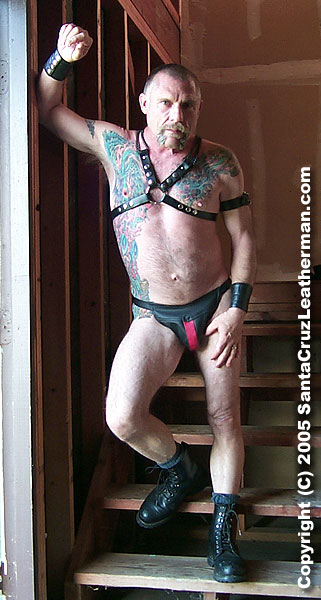 ---
Review #2, 03/27/2005
Name: Curt:
Location: Santa Cruz CA
Email: sclm@santacruzleatherman.com
Phone: 831-419-1646
Website: Curt's Web Site

Ethnicity: Caucasian Age: 50's
Height: 5'7" (170 cm) Weight: 150-160 lbs (68-73 kg) Build: Muscled
Eyes: Blue Hair: Cropped Salt & Pepper
Body Hair: Light Facial Hair: Beard
Cock: Cut 5-6" (12-15 cm) Average

Orientation: Gay Oral: Gets Kink: Dominate
Roles: Massage
Calls: In/Out
Tattoos: Several
Rates for time only(US $): 1st=100

Date: 01/2005 Type: 1.5 Hours Rate: $150
Rating: Recommended Hire Again? Yes
Where Found? Hooboys M4M
Reviewed Before? Yes Match Description? Yes Lived up? Yes

Experience:
I was planning to be in Santa Cruz and I was looking for a massage – or that's what I thought I was looking for – but I found much more.

Google first guided me to Curt's "straight" massage site http://www.richcurtis.com/curt.html as an opener --it has a couple of really great photos of him and promotes his massage services -- and then I was steered me to a review of Curt on this site which gave me a greatly expanded profile of this hot mature masseur.

I immediately got turned on to the idea of a combo massage/leathersex session like Curt's prior reviewer experienced. Being submissive has intrigued me for some time, but I'd never explored it, and all of a sudden here was an opportunity.

Then I clicked on Curt's web pagelisted with the M4M Escort Review http://www.santacruzleatherman.com/ and the pictures there detailed how exciting my experience could be.

To be honest, some of the pictures scared me – but they also gave me a hard-on. When I read Curt's written message the scared feeling went away – the hard-on stayed. It was like he was talking right to me. He makes clear he's in the business of providing pleasure – through control and pain– and that the experience could be mild or wild. He stresses that he doesn't care about age or weight or body type – he cares about providing to his clients with a great time. It convinced me that I wanted him to be my master for my first BDSM experience.

On the phone Curt was charming and easy to talk to. I told him I was a beginner he said he'd really enjoy introducing me to this new scene. When I couldn't tell him what aspects of S&M I was interested in (because of inexperience) he suggested that before we got together later that week I consider some words or phrases that "turned me on" to give him some guidance. His site has a list of "things I'm into" that runs the BDSM gamut – so there was plenty of raw material for my imagination.

The list I came up with included: restraints, collars, gags, flogging, spanking and piss. I sent Curt an email with my "wish list" and told him that I was probably more into humiliation than pain. I also made clear what didn't turn me on: clothes pins, needles and mummification.

He met me at the door with leather wrist cuffs in his hand. Curt is in his early 50's. His look is "muscled-up biker "-– so hot and manly in levis and undershirt.

He directed me to his massage room, instructed me to strip and get on my knees in front of him. He pushed my face into his crotch and I smelled and licked his jeans. I told him right then that I wanted to skip the massage part of the session and so he laid out the rules of conduct for our time together.


He put wrist and ankle cuffs on me, clipped on stretchers and secured me to the wall. He started out put a mask on me but I asked him to take it off because I wanted to watch what he was doing. He obliged, for the time being, but the mask re-introduced again later on. He gagged me (the ultimate shut-the-fuck-up) and then got out a variety of pain producing equipment.

As Curt worked me over, he was always firm and sure of himself. He would alternately introduce me to a new physical excitement and then he'd tease me as I strained to get his hard cock in my mouth. Then he'd relent and I would suck his dick and lick his balls. He was turned on – and devilishly attractive throughout the whole session with his levis' hanging on his hips, open at the fly and his cock and balls out. Curt doesn't have an especially big dick, but it's a beautiful thing to suck – largely because of the man it's attached to.

In the course of the session which ran a good twenty minutes long, he took me off the wall and tied me down to the message table spread eagle with my shoes tied to a parachute ball stretcher dangling between my legs.

He spanked me with a paddle, and used a nerve stimulator on me. At one point he was flogging me and I started to moan and he said "that's what turns me on -- take a few more" and I wanted to take more of those lashes and did. When he finished the flogging, he kissed me -- deeply. Hot, hot, hot.

Curt forced several mouthfuls of piss through his always constant hard–on, accompanied each time with verbal abuse as I sucked it in and swallowed it. Along toward the end of the session he instructed me to take his dick in my mouth but not to suck on it – just hold it -- and after a few moments of quite concentration he emptied his bladder down my throat. I loved it.

I ended up on the floor licking the sole of his boot that was pressed into my face while he jerked off over me. He came all over my face and chest.

He told me several times that this was a hot session for him and that my enjoyment of it made it easy for him to be turned on -- If that was true that I was a turn on, great: If it was him being a professional sex vendor providing me with the good time I came for, also great. At all times I felt that I was hot and sexy and we were doing this together. At one point he said he wished he had a camera to get a shot of this. I had my digital in my jacket – so he took some pictures –and as a result I have several jerk off photos to relive the experience.

Now that I've had BDSM 101 I'm definitely going back for advanced work. Next time I won't be as specific as to my likes and dislikes because now I know how intuitive this guy is, and I want him to decide what kind of pain and abuse I'll get and how much.


Handle: East Coast Mike
Submissions: First Review
You:
GWM 5'10, 165# Early 60's,in reasonably good shape. I used to think I was good-to-go as top or bottom, but more and more realize I am submissive and a natural bottom. Curt was my first experience hiring an escort.
---
Review #1, 11/11/2004
Name: Curt:
Location: Santa Cruz, CA
Email: sclm@santacruzleatherman.com
Phone: 831-419-1646
Curt's Website

Ethnicity: Caucasian Age: 50's
Height: 5'7" (170 cm) Weight: 160-170 lbs (73-77 kg) Build: Muscled
Eyes: Blue Hair: Short Salt & Pepper
Body Hair: Light Facial Hair: Beard
Cock: Cut 5-6" (12-15 cm) Average

Orientation: Gay Kissing: French Masturbation: Both Oral: Both Kink: Switch
Calls: In/Out
Smoking: Tolerent Drinking: Tolerent Tattoos: Several
Rates for time only(US $): 1st=100

Date: 10/2004 Type: 3 Hours Rate: 250
Rating: Recommended Hire Again? Yes
Where Found? His Website
Reviewed Before? No Match Description? Yes Lived up? Yes

Experience:
I had heard about Curt through friends, then saw his website and decided to give him a shot.

On the phone, he was courteous and professional, and we booked time together a few days later. I went to his house.

The front part of his house has a separate space with a massage table, and we started out with a massage that grew more sensous over time. I had told Curt when I arrived that I was looking for a real massage to help get rid of stress (and he's a Certified Massage Therapist), but I was also looking for a BDSM experience of being dominated.

Curt is 5'7" about 165, I asked and he's 53, with piercing blue eyes and salt-and-pepper hair. He has a very nice beard, which is a turn-on for me (I'm into facial hair). He has two large artistic tattoos on the left and right side of his body. He looks like a muscular biker in appearance.

After about three-quarters of an hour getting a wonderful massage (there is nothing better than a great massage by someone muscular who knows what they are doing), Curt put wrist restraints on me, and tied me to a wall. He then proceeded to flog me, work over my nipples and balls, and do some CBT (which really turns me on). He sucked me off for a little while, and then spread me across the massage table, and spanked my ass to a nice rosy red. He then had me kneel and suck him, while I jerked off.

The time went by quicker than I realized. I've already made an appointment for the next time I'm in Santa Cruz.

Handle: BondagePig
Submissions: First documented Review
Previous Reviews:

You:
GWM 6'0 210# 43 brown/brown w/Fu Manchu mustache, a little overweight. Enjoy dominant men and a little pain. Hire escorts on occasion, especially when travelling to other cities.
---
© This entire site is copyright HB Publishing, Inc. 1999, 2000, 2001, 2002, 2003, 2004 All rights reserved.